1. Boss Jin'rokh the Breaker (ToT)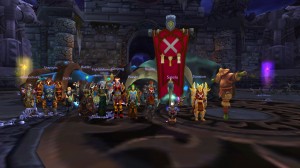 Så er vi godt igang med den nye raid instance, efter anden raidaften måtte 1. bossen  Jin'rokh bøje sig. Vi blev beriget med loot lige fra starten med epic loot fra adds og senere var vi heldige at få en quest på en rare boss  på vej til anden bossen.
Efter blod, sved og (lidt) tårer og en del wipes på "Brobissen", som vi har døbt broen, nåede vi til "Monara The Last Queen" (rare).
Herefter stoppede vi aftens raid, men mon ikke Horridon får besøg næste gang vi raider, nu da vi ved hvor mange "bompenge" vi skal medbringe 🙂